'Lesser breeds within the law' - Dickens and minor legal officers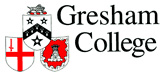 Charles Dickens Series
Dickens began as a lawyer's clerk and his works show a fascination with the minor but necessary denizens of the law – clerks, bailiffs, keepers of lock-ups, gaolers. These legal minnows are a fascinating aspect of Dickens's depiction of the legal system.
Register to tell a friend about this lecture.
Comments
If you would like to comment about this lecture, please register here.