Power Play - The hidden role of power in our lives and relationships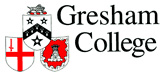 Psychiatry lecture
Power is wielded against us all the time - is not just our bosses or work colleagues who seem to inveigle upon us - but politicians and the local council. We don't like to think of intimate relationships in this way but power is at play even in our marriages - and our children have been known to manipulate. Can a power analysis of relationships help us better understand the human condition and why does our personal power appear to be ebbing away - if we are losing it - who is winning at our expense?
Register to tell a friend about this lecture.
Comments
If you would like to comment about this lecture, please register here.