The psychology of seduction - Is life a seduction?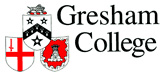 Psychiatry lecture
Some people seem to be 'simply irresistible' - the title of Prof Raj Persaud's new book on attraction - but is attractiveness something you are either born with or not - or can you learn how to become more attractive? Yet is attraction even the key cement that will keep us together until we are 64 - as the Beatles lyric asks? Could our society be too obsessed with desirability at the expense of more worthy values? Even so - what if these worthy values won't secure you a date? This lecture could yet be given to candles and mood music.
Register to tell a friend about this lecture.
Comments
If you would like to comment about this lecture, please register here.