Gravitational-wave astronomy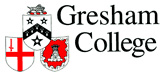 Astronomy lecture
Einstein predicted that gravitational waves exist. What are they, how are they produced, and what is the evidence for their existence? We look at ways in which colliding black holes and other violent events in the universe produce gravitational waves which eventually reach the Earth. Huge new detectors have been built on different continents to detect these signals. We will see what they might tell us about the first moments of the universe, cosmic 'strings' and the highest energy events.
Register to tell a friend about this lecture.
Comments
If you would like to comment about this lecture, please register here.