The age of dictatorship: Europe 1918-1989 - The little dictators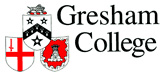 History lecture
The third lecture in this series asks why so many European states fell victim to dictators in the interwar years. It looks at a variety of dictators for an answer, including Metaxas in Greece, Franco in Spain, Dollfuss and Schuschnigg in Austria, and the dictators of a number of countries in Eastern Europe.
Register to tell a friend about this lecture.
Comments
If you would like to comment about this lecture, please register here.