Corporation Tax or Income Tax: Which is the greatest con?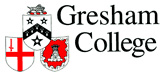 Commerce lecture
Taxation is arguably, the greatest intervention of government in the economy. There is much tinkering, but little reform. We shall explore how abolishing corporation tax or implementing consumption tax, along with other radical suggestions, might increase the economy, the tax take and society equity.
Register to tell a friend about this lecture.
Comments
If you would like to comment about this lecture, please register here.