Islam and Christianity - is a clash of civilisations inevitable?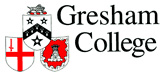 Special event
The American political scientist Samuel Huntington has warned of a future 'clash of civilisations' between Islam, the West and China. Concentrating on Europe, this lecture will ask to what extent of Islam and secular/Christian Europe are involved in a possibly destructive clash of cultures, and what might be done to alleviate it.
Register to tell a friend about this lecture.
Comments
If you would like to comment about this lecture, please register here.