The Fourth Annual Boyle Lecture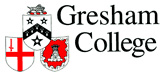 Special event
Delivered by John D Barrow, FRS, Gresham Professor of Astronomy, with response by Professor the Lord Rees, PRS, MAster of Trinity College Cambridge, Astronomer Royal, President of the Royal Society and former Gresham Professor of Astronomy
The original Boyle Lectures took place annually between 1692 and 1732. Funded by a bequest in the Will of the Hon Robert Boyle, the lectures featured distinguished preachers who were asked to consider the relationship between the new natural philosophy and the Christian religion. Revived in 2004, the new Boyle lectures address the same challenge today.
Register to tell a friend about this lecture.
Comments
If you would like to comment about this lecture, please register here.