Where is everybody?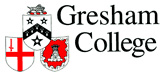 Astronomy lecture
Are we alone? The universe is very big. Why do we not see evidence of intelligent life elsewhere in the universe? We will look at a large number of possible explanations for this surprising state of affairs and ask whether we should expect things to change in the future.
Register to tell a friend about this lecture.
Comments
If you would like to comment about this lecture, please register here.