Lifestyle diseases: The burden of choice?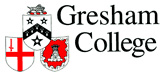 Physic lecture
Take exercise, wear seatbelts, eat the right food, stay off alcohol, and stop smoking. Is there a simple recipe for good health and Methuselan longevity? With luck and judgment, how many years of healthy life can we hope to enjoy? How much control over our health do we now have? Is living to be 100 simply a matter of choice (and personal sacrifice?
Register to tell a friend about this lecture.
Comments
If you would like to comment about this lecture, please register here.