Does society risk my life through safety? The perils of too much risk-aversion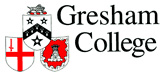 Commerce lecture
We would all like a riskless life, right? The Precautionary Principle embodies the idea that if the consequences of an action are unknown, but are judged to have potential for major or irreversible negative consequences, then it is better for society to avoid that action. Yet society's adherence to the Precautionary Principle and knee-jerk responses to avoid future disasters can worsen our risks as we all fall prey to the Illusion of Control.
Register to tell a friend about this lecture.
Comments
If you would like to comment about this lecture, please register here.