'Thus saith the Lord' - God's law and secular justice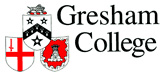 Divinity lecture
Human autonomy and obedience to God. Is religious law repressive and archaic? Is there a secular basis for justice? Must religious law (Torah/Shariah) and secular rules of justice inevitably clash.
Register to tell a friend about this lecture.
Comments
If you would like to comment about this lecture, please register here.