Shams Tabrizi: The Doctrine and Discipline of Rumi's Sufi Master
THIS EVENT HAS BEEN CANCELLED
Dr. Seyed Mostafa Azmayesh examines the spiritual educational methods utilised by Jallal edin Rumi's Sufi master ('Shams Tabrizi')
This lecture, organised by ICC (Inter Cultural Centre) in association with the London Middle East Institute will examine the spiritual educational methods utilised by Rumi's master ('Shams'). There will be tea/coffee and biscuits available, and there is also the opportunity to listen to live Sufi music.
Jallal edin Rumi is probably the best known Middle Eastern mystical poet. His works, and other peoples commentaries on them, are published world wide. His poems have steadily penetrated the mindset of western societies and have recently become best sellers. Even though Rumi's fame has spread throughout the world, his Sufi teacher and master ('Shams e Tabriz') has strangely remained unknown. The relationship between Shams and Rumi, which produced works that represent unequalled explanations on mystical love, led Rumi to a path that guided him towards his complete immersion in love, with the goal of becoming one with God.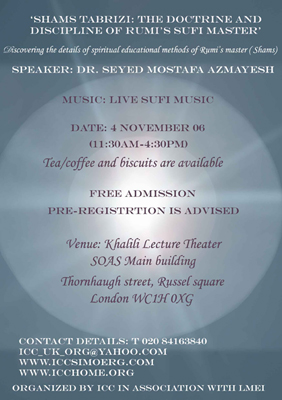 Admission to this lecture is FREE, but interested individuals are advised to pre-register due to limited seating capacity. Please contact:
Inter Cultural Centre (ICC)
Tel. No. 0208 416 3840
Mobile: 0771 853 5006
E-mail: icc_uk_org@yahoo.com
Website: www.iccsimoerg.com / www.icchome.org
Dr. Azmayesh is a Paris-based scholar specializing in Sufism, Spirituality and Mystisim. Having graduated from Paris and Lyon as a doctor of Philosophy and Comparative Sciences of Christian and Islamic Religions, he has published widely on Islam, Sufism and Spirituality. Parallel to these academic activities, Dr. Azmayesh is also the official representative of the Shah Nematollah Vali Gonabadi Sufi Order in Europe, Canada and the United States of America.
Speaker(s):

Dr Seyed Mostafa Azmayesh | talks


Date and Time:

4 November 2006 at 11:30 am

Duration:


Half Day

Venue:


Khalili Lecture Theatre (correct for event posting)
School of African and Oriental Studies
Thornhaugh street, Russell square
London
WC1H 0XG
+442076372388

Show map



Organised by:


Tickets:

FREE

Available from:
Register to tell a friend about this lecture.
Comments
If you would like to comment about this lecture, please register here.