Putting the pieces together: How reconciliation fits into the peacebuilding puzzle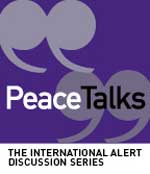 The second discussion in International Alert's PeaceTalks series will focus on the role of justice and reconciliation in building lasting peace.
This discussion will look at conflict and peace processes around the world to explore one aspect: reconciliation and justice. The panel features three expert practitioners:
- Diana Francis – Author of 'People, Peace and Power'. Former President of the International Fellowship of Reconciliation and currently Chair of the Committee for Conflict Transformation Support.
- Brendan O'Leary – Director of the Solomon Asch Centre for the Study of Ethnopolitical Conflict and Lauder Professor of Political Science at the University of Pennsylvania.
- Simon Fisher – Founder of Responding to Conflict, a Birmingham-based NGO that provides training, advice and support to people working for peace and human rights in areas affected by war of violent conflict.
Chaired by Phil Vernon, Director of Programmes for Africa and the Peacebuilding Issues Programme, International Alert
Register to tell a friend about this lecture.
Comments
If you would like to comment about this lecture, please register here.