Mesopotamian Demons III: A Third Night with Dr. Irving Finkel's Demons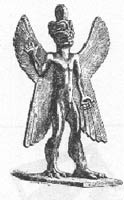 Magic, demons and necromancy in Ancient Mesopotamia.
Tonight's illustrated talk is on just what it says, from a leading scholar in the field: magic, demons and necromancy in Ancient Mesopotamia. We are delighted to present, for a third talk, Dr. Irving Finkel of the British Museum. This lively speaker is a world expert in Ancient Mesopotamian magic who contributes frequently to radio and television programmes. Maev Kennedy in The Guardian says: "Irving Finkel is the last of the great eccentrics, put on the earth to brighten up the dull grey everyday. He knows more things about more things than most sane people could cope with."
A soirée follows the talk, and all are invited to stay for drinks and canapés. Please book in advance. NOTE: this talk covers different material from that in his Spring Treadwell's lectures.
Register to tell a friend about this lecture.
Comments
If you would like to comment about this lecture, please register here.