Paracelsus: Renaissance Magic and Science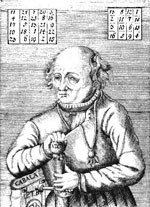 Philip Theophrastus Aureolus Bombastus von Hohenheim, who called himself Paracelsus, stands at the cusp between the medieval and the modern.
The name Paracelsus is a by-word for the archetypal alchemist: the wizened man with wild hair, shambolic laboratory and shady reputation. The real Paracelsus – alchemist, scientist, occultist – is the subject of this talk. But he was a larger-than-life figure even in his own day: an enemy of the medical establishment, a scourge of the universities, an alchemist, army surgeon and radical theologian. He accumulated myths even before he went to an early grave: his name was linked with Faust, who bargained with the devil. Philip Ball explores the intellectual, political and religious undercurrents of the sixteenth century, placing Paracelsus on the cusp between the medieval and modern eras. In his work, uniting the diverse disciplines of medicine, biology and alchemy, he assisted – almost in spite of himself – the birth of science and the emergence of the age of rationalism.
Philip Ball is an award-winning freelance writer and a consultant editor for Nature. He writes regularly in the scientific and popular media, and has ten books on scientific subjects to his name. His next books, Universe of Stone (on Chartres cathedral) and The Sun and Moon Corrupted (a novel), will be published in 2008. He studied chemistry at Oxford and holds a doctorate in physics from the University of Bristol.
Register to tell a friend about this lecture.
Comments
If you would like to comment about this lecture, please register here.