H.P. Lovecraft and the Occult: Legends of the Necronomicon
The second of Dr. Justin Woodman's four talks analysing aspects of H.P. Lovecraft (1890–1937), the creator of the Cthulhu mythos.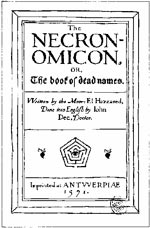 Justin Woodman explores the history of the legendary Necronomicon in fact and fiction, and ponders its continuing relevance to contemporary occult cultures. Penned by the Yemeni poet and mystic Abdul Alhazred circa 700 CE, the dreaded Necronomicon is perhaps one of the most powerful and alluring of H.P. Lovecraft's creations: a grimoire able to rend apart the very fabric of reality and bring forth the Great Old Ones themselves. Although a work of fiction, the Necronomicon has yet achieved a social and physical reality with more than twenty versions having been published since the 1960s.
Dr. Woodman lectures in anthropology at Goldsmiths College, Birkbeck College, and the University of Westminster. He has contributed articles on Lovecraftian themes to Strange Attractor and The Journal for the Academic Study of Magic.
Register to tell a friend about this lecture.
Comments
If you would like to comment about this lecture, please register here.