H.P. Lovecraft and the Occult: Chariots of the Dark Gods
The third of Dr. Justin Woodman's four talks analysing aspects of H.P. Lovecraft (1890–1937), the creator of the Cthulhu mythos.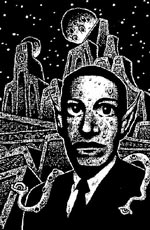 Many of H.P. Lovecraft's best known tales of the Cthulhu mythos intimate that the human species is nothing but a by-product of extraterrestrial interventions in Earth's prehistory. His idea predates the "Ancient Astronaut" theorists and "alternative archaeologists" by over thirty years. Woodman demonstrates that Lovecraft is a pervasive (but often unacknowledged) influence upon ufology and UFO religions. In the second part of the lecture, Woodman speculates further on the relationships that have developed between imaginative fiction, Forteana and contemporary occult cultures.
Dr. Woodman lectures in anthropology at Goldsmiths College, Birkbeck College, and the University of Westminster. He has contributed articles on Lovecraftian themes to Strange Attractor and The Journal for the Academic Study of Magic.
Register to tell a friend about this lecture.
Comments
If you would like to comment about this lecture, please register here.