H.P. Lovecraft and the Occult: Chaos, Cthulhu, and Contemporary Consciousness
The fourth of Dr. Justin Woodman's four talks analysing aspects of H.P. Lovecraft (1890–1937), the creator of the Cthulhu mythos.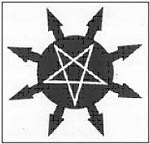 Tonight's talk concludes the series exploring the relationship between Lovecraft's Cthulhu mythos and contemporary occult cultures. Woodman here focuses on Chaos magic and other recent movements, and considers the claim that Lovecraft was a "mythographer of modernity". It can be argued that he was a writer whose enduring vision is consonant with the claims of cutting-edge magic and theoretical physics; moreover, Woodman suggests, his work intimates something about the current trajectories of Western culture and consciousness.
Dr. Woodman lectures in anthropology at Goldsmiths College, Birkbeck College, and the University of Westminster. He has contributed articles on Lovecraftian themes to Strange Attractor and The Journal for the Academic Study of Magic.
Register to tell a friend about this lecture.
Comments
If you would like to comment about this lecture, please register here.