Travels of Dr. Dee: A Slide Lecture
John Dee, Elizabeth I's astrologer and leading mathematician, was deeply involved with alchemy and angelic magic.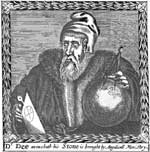 The latter practices involved his scryer and best friend Edward Kelley. Dee and Kelley's lives were filled with travel, and everywhere they went they got involved with princes, gold-making, angelic visitations, and hair-raising adventures.
Robin Cousins, a long-term student of Elizabethan magical philosophy, has visited a great many of these sites across Britain and Europe. His slide lecture takes us on their journeys, outlines their adventures, and explains their magical practices. The slides show original buildings, towns, manuscripts, and magical paraphernalia. Places illustrated include Mortlake-on-Thames, Manchester, Upton-on-Severn, Leadenham, Prague, Cracow, Trebon, Ceskykrumlov, Gilova, Most, and Krivoklat. After the slide lecture, Robin will take questions and the group can discuss some of the themes raised.
Robin Cousins has published variously on Dee and Kelley over the past fifteen years. He has an exceptionally intimate knowledge of their angelic system and its working methods, which he has been studying in depth for the past two decades.
Register to tell a friend about this lecture.
Comments
If you would like to comment about this lecture, please register here.