Sikkim Pre-Monsoon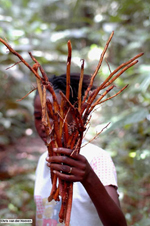 Martyn Denney of the Cyclamen Society recounts his recent plant-hunting trip to Sikkim, NE India
A talk by Martyn Denney of the Cyclamen Society. The Cyclamen Society exists to encourage cultivation and conservation, and to disseminate and extend knowledge of the genus Cyclamen and its species, forms and cultivars. It combines scientific study with all the activities of a society for enthusiasts who cultivate the plants. In addition to the various activities in the UK, the Society also carries out expeditions to study the plants in their native habitats, mapping distribution and gathering statistical data about leaf shapes, sizes and patterns, and flower colours and petal shapes and sizes. The results are reported in the Journal. Martyn talks about his recent, very exciting cyclamen-collecting trip to Sikkim in north-east India.
Register to tell a friend about this lecture.
Comments
If you would like to comment about this lecture, please register here.