The Lore of Holy Wells: Magic, Miracles, and Marketing
The waters of the holy well whisper of a lost era of spiritual beauty. Well, we like to think so.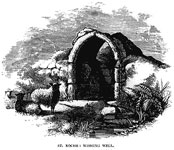 In fact, most of the holy wells on today's tourist map are empty shells. Like shells, they look pretty; but the life left them long ago, when they lost their power to work miracles. In a short blaze of glory, they cured the blind, the crippled and the bedridden. Holy wells were made by popular acclaim. The cult of saints, of which they were only one aspect, could be stage-managed by the church; but it required the validation of spontaneous pilgrimage, and by the end of the Middle Ages, senior clergy had grown disenchanted with it altogether. Then fashion moved on, and the old shrine was abandoned to curiosity-seekers and antiquaries. The true history of holy wells has yet to be written.
Jeremy Harte is a researcher into the overlap between folklore and archaeology, with a particular interest in sacred space and the supernatural. His most recent book, Explore Fairy Traditions, won the coveted Katharine Briggs prize of the Folklore Society. Currently he is preparing a new version of Hope's Holy Wells of England, the Yellow Pages of hydrolatry, and is consultant editor of the journal Time & Mind as well as a curator of the Bourne Hall Museum. He has been described by the Independent on Sunday as "the most passionate yet abstruse lecturer I have ever seen since Geoffrey Hill."
Register to tell a friend about this lecture.
Comments
If you would like to comment about this lecture, please register here.