Waking the Dead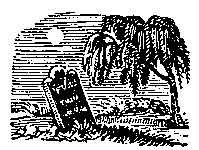 Everything you ever wanted to know about stealing a body.
Before 1832, the only legal supply of corpses for anatomical purposes came from those condemned by the courts, and this did not provide enough subjects for the needs of medical schools. Therefore, the medical profession turned to body-snatchers to supply the shortfall; they were called Resurrection Men. Theirs was a lucrative business, particularly as the authorities tended to turn a blind eye. It was not unusual to see families, rich and poor, huddled round the graves of recently deceased relatives, keeping watch day and night until the bodies of their loved ones had decomposed enough to be useless to the Resurrection Men. In some graveyards to this day one can still see the "mort safes": cage-like devices intended to protect fresh corpses. The speaker will re-tell some of the most vivid stories about the phenomenon, concentrating on examples from Ireland and including the story of the Battle of Glasnevin Graveyard. Damien de Barra is a co-founder of the famed blather.net news commentary website, has worked at the National Museum of Ireland and is a prolific editorial writer. He has an abiding fascination with graveyards.
Register to tell a friend about this lecture.
Comments
If you would like to comment about this lecture, please register here.