From Bloodletting & Purges To Blood Tests, Transplants & Merges!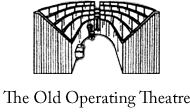 Two talks and a guided walk on medical developments of the 19th & 20th centuries.
With Dr David Leaback (Royal Society of Chemistry Historical Group) and Karen Howell (Curator of the Old Operating Theatre Museum)
Nineteenth Century patient care at the United Guy's & St Thomas' Hospitals incorporated over 30,000 leeches a year! Yet, through the 19th & 20th Centuries, the Hospitals' pioneering surgeons, physicians and chemists advanced such standard crude treatments as blood-letting, purges and brutally painful surgery to institute more effective, modern, science-based patient care. Two illustrated talks link the early foundations to the development towards modern hospital medicine practice, with an opportunity to see scientific experiments at work. The presentation concludes with a short walk into Guy's Hospital, to see one of the most important scientific discoveries of the 20th Century, wax models of gangrene and scabies, and a blunderbuss!
Register to tell a friend about this lecture.
Comments
If you would like to comment about this lecture, please register here.