New Light on Old Gerald: Wicca, Gardner and the Craft
Wicca's emergence in the 1950s occurred amongst a group of innovative and creative people in the ambit round Gerald Gardner.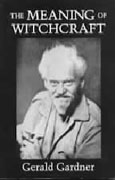 Philip Heselton, independent historian and doctoral researcher, is working on the comprehensive biography of the man and his milieu. He is comind down to Treadwell's from the North of England to share his most recent (still unpublished) findings. His previous publications include Wiccan Roots: Gerald Gardner and the Modern Witchcraft Revival (Capall Bann, 2000) and Gerald Gardner and the Cauldron of Inspiration: An Investigation into the Sources of Gardnerian Witchcraft (Capall Bann, 2003).
Register to tell a friend about this lecture.
Comments
If you would like to comment about this lecture, please register here.