The Sacred Magic of Abramelin: Saturday Seminar
The famous Abramelin working of Western magic has as its aim the invocation of the holy guardian angel.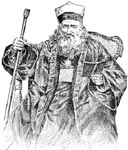 Georg Dehn has been working for the past few years on a new edition and on the manuscript variants. Treadwell's is flying him over from Germany to talk and share his findings and analyses. The programme will consist of an introductory talk on the first edition, a lecture by Georg on the new edition and his adventures, a seminar discussion, a tea break, and a round-table interview session.
Register to tell a friend about this lecture.
Comments
If you would like to comment about this lecture, please register here.