Myth and Mysticism: Ella Young's Ireland
Ella Young (1867–1956; born in County Antrim, Northern Ireland) was a significant figure of the Irish Literary Renaissance.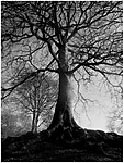 Ella Young wrote poetry, mystical prose, and children's versions of Celtic myths. She was an occultist, lesbian, poetess, folklorist and republican – a great friend of Maud Gonne's. Tonight's talk introduces Ella Young, puts her in context then goes on to look at her magical and mystical pagan practices, considering always how these shaped her image of Ireland as a nationalist. Aurelia will take in her occult group ("the Fine"), her folklore field work and her supernatural experiences in the Irish landscape. Ultimately, Young's life and writings allow us to see the role of occultism in the formulation of a new Ireland in the early twentieth century. Aurelia Spottiswoode-Annat is researching her doctorate at Oxford.
Register to tell a friend about this lecture.
Comments
If you would like to comment about this lecture, please register here.