Magic at the Crossroads
The crossroads is the magical point of ingress and egress between the worlds par excellence.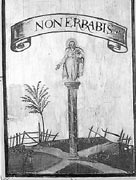 Virtually every culture in the world recognizes the crossroads as a holy site associated with magic, witchcraft and strange transitions into the beyond. Tonight's speaker looks at the mysteries of the crossroads as they appear in a range of cultures (including voodoo, santeria, Western myth and European superstition), as well as relating some of the insights that come from his own experiences. Stephen Grasso, who hails from Newcastle, is a practising magician, a voudonist and a writer – and has a book coming out later this year. His essays have appeared in numerous periodicals and Generation Hex (2004, Disinformation Press).
Register to tell a friend about this lecture.
Comments
If you would like to comment about this lecture, please register here.