Programme: Richard Squires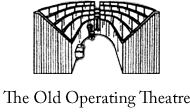 Screening of a video project on Salpêtrière Hospital by artist Richard Squires
PROGRAMME is the culmination of a project based around the Salpêtrière Hospital in Paris, initiated by artist Richard Squires in 2003: a hybrid video work that interweaves drama, documentary and sporadic attempts at hypnotic communication.
At the end of the nineteenth century the Salpêtrière was the stage for Dr Charcot's leçons du mardi - highly theatrical presentations of Salpêtrian hysteria that featured 'star patients' such as Blanche Wittman. PROGRAMME examines aspects of the neurologist's practice that imply manipulation, collusion or simulation and revisits the Salpêtrière's history as an establishment of social control during the ancien régime. Interviews with historians, dramatic reconstructions, cataleptic performances and a syphilitic narrator come together to fashion a hysterical narrative that eventually unravels to expose its own construction.
A limited edition programme with a specially commissioned text by Ian White will accompany the events. PROGRAMME is funded by Arts Council England and the University of Hertfordshire.
Speaker(s):

Date and Time:

19 June 2007 at 7:30 pm

Duration:


2 hours

Venue:


Old Operating Theatre, Museum & Herb Garret
9a St Thomas' Street
Southwark
London
SE1 9RY
020 7188 2679
http://www.thegarret.org.uk

More at Old Operating Theatre, Museum & Herb Garret...

Tickets:

£5

Available from:

Tickets cost £5, advance booking recommended. Call 020 7188 2679
or email curator@thegarret.org.uk to reserve a place.

Additional Information:

Also screening at The Whitechapel, Whitechapel High Street, E1 on 7th June 2007, priced £5. Tickets available from www.whitechapel.org
Register to tell a friend about this lecture.
Comments
If you would like to comment about this lecture, please register here.