The Greek Origins and Western History of the Four Elements
Earth, air, fire and water are core to the modern pagan worldview, but in pre-Modern Europe they were mainstream concepts.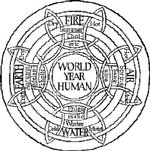 Four-element cosmology traces back to Greece and was the subject of scientific and spiritual debate from that time forward. Ms. Greenbaum elucidates the nuances in four-element theory from the ancient world (Empedocles, Hippocrates, Plato, Aristotle, Galen, Ptolemy, Manilius, and Valens), and its expressions in the Middle Ages and Renaissance (Marsha'allah, Abu Mashar, Avicenna, Bonatti, Lull, Ficino, Paracelsus). There will be a presentation with illustrations, slides and readings to create a magical and enchanting experiential lecture. Dorian Gieseler Greenbaum has worked in traditional astrology and written on the four elements (Temperament, Astrology's Forgotten Key – WA Publications 2005). She is currently researching her doctorate at the University of London's Warburg Institute, where she is working on the concept of the daimon.
Register to tell a friend about this lecture.
Comments
If you would like to comment about this lecture, please register here.