Ross Nichols: A Mysterious and Mystic Druid
This talk explores the life and philosophy of the founder of the Order of Bards, Ovates and Druids: Ross Nichols.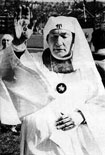 As he was a naturally private person, little is generally known about Ross Nichols, and little of his world has been republished until recent years. The main force in the excavation of the life and spirituality of Nichols, and the driving force, too in the republication of his work, is the current head of the order (and tonight's speaker), Philip Carr-Gomm. The themes of Nichols' druidry are embedded in his life. Tonight's talk will traverse issues of friendship, solitude, relationship with the land, personal intimacies, the Grail, care of youth, cultivation of intuition, socialism, naturism, Christianity, paganism, and – very importantly – poetry. In Ross Nichols, quiet creativity and a reticence filled with passion transfigured itself into a legacy of druidry today. Philip Carr-Gomm is head of OBOD and has published numerous titles of his own, as well as editing Nichols' work. More on www.rossnichols.druidry.org.
Register to tell a friend about this lecture.
Comments
If you would like to comment about this lecture, please register here.