Rights are not a pair of tights to wear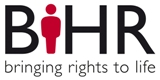 Lecture by Camila Batmanghelidjh - New Statesman Person of the Year 2006, Director and Founder, Kids Company
On 3 July, Camila Batmanghelidjh, Director of Kids Company (www.kidsco.org.uk) and Liberty Council Member will give the 2nd lecture in The British Institute of Human Rights' 2007 human rights lunchtime lecture series. The lectures are now in their 21st year. Camila will explore what we need to do to enable young people to embrace the concept of human rights, both in terms of how they themselves are treated, and in their treatment of others.
Open to the public, free of charge, no need to register in advance. Please arrive early to avoid being turned away due to overcrowding. We cannot guarantee admittance for latecomers.
The Lunchtime Lectures are generously sponsored by Irwin Mitchell, One Crown Office Row and the New Statesman.
For more information see www.bihr.org.uk or call 020 7848 1818
Register to tell a friend about this lecture.
Comments
If you would like to comment about this lecture, please register here.