"One Devil's Toenail": Fossils as Magical Objects
Tonight's lecturer takes us through the role of fossils in talismans, amulets, charms, curses and ?other aspects of folk belief.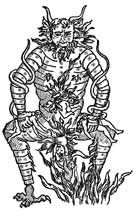 Tonight's lecturer is a palaeontologist and a lecturer on the history of science. He will reveal the legends of the Devil's toenails and the Scrotum Humanum, swallow-stones and snake-eggs, griffins, St. Cuthbert's beads – and that's just a start. Common fossils like shells and sharks' teeth became part of folk magic and religious ritual all around the world, from the shaligram stones of Nepal to the fairy loaves of Southern England. Even Christianity was quick to incorporate the magical powers of fossils, connecting them with the acts of the saints. Because they seemed to offer tangible proof of creatures otherwise known only from legends, fossil bones were likely behind many tales of giants, dragons, and other giant beasts. And we meet some of these myths tonight, in vivid glory. For anyone who has a sense of the weird and wonderful, tonight is a must. Neale Monks is a fossils expert, and is the author of Ammonites.
Register to tell a friend about this lecture.
Comments
If you would like to comment about this lecture, please register here.