Seven Planets, Seven Metals: Alchemy, Science, and the Occult Virtues of the Metals
Nick Kollerstrom discusses the planets and their metals, with a particular focus on alchemy, ‎empirical science, astrology and planetary magic.‎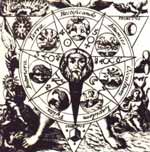 Traditional alchemy always linked the seven traditional planets of pre-modern cosmology to seven metals: gold was the radiant sun-metal, silver the metal of the moon, copper the metal of Venus, and so on. Tonight, Nick Kollerstrom takes us through the planets and their metals, with a particular focus on alchemy, scientific empirical experiments, traditional astrology and principles of planetary magic. This is a useful talk for anyone who uses planetary sigils and traditional talismans, or who works with Solomonic magic; or is in Alexandrian Wicca, where planetary magic remains a strong component. The speaker is a research fellow at UCL's Department of Science. He is recognised throughout the astrological community for his pioneering studies that have brought his scientific background into exciting fields of research on planets, plants and metals. He has been actively involved in the study of planet-metal associations and other matters of a hermetic nature for 30 years, and has lectured on these subjects since 1975. His work in medical research resulted in his book Lead on the Brain – A Plain Guide to Britain's No. 1 Pollutant. His investigation of lunar effects upon plant growth led in the 1980s to his gardeners' guide Planting by the Moon and the popular annuals Gardening and Planting by the Moon. His online articles: http://www.astrozero.co.uk/astroscience/koll2indx.htm. For metals and planets, look at: http://www.skyscript.co.uk/metal.html.
Register to tell a friend about this lecture.
Comments
If you would like to comment about this lecture, please register here.