Dealing With Depression - Kathleen McDonald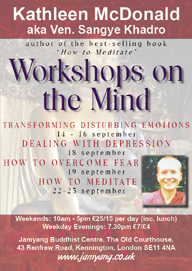 Kathleen McDonald - author of the Best-Selling book How To Meditate will be giving a series of Lectures on Mind and Emotions.
We spend our lives being seduced by the outside world, believing completely that happiness and suffering come
from 'out there'. But in fact, our experience depends on us. We have full responsibility for our lives. The more we are aware, the better we become at making skillful choices." Kathleen McDonald will challenge our concepts of seeking satisfaction in a material world-not as a method of escape from the world, but as a way of balancing our material well being with our inner well being to create a harmonious world.
Speaker(s):

Kathleen McDonald | talks


Date and Time:

18 September 2007 at 7:30 pm

Duration:


1 hour 30 minutes

Venue:


Jamyang Buddhist Centre
The Old Courthouse
43 Renfrew Road
London
SE11 4NA
02078208787
http://www.jamyang.co.uk

More at Jamyang Buddhist Centre...

Tickets:

£7/£5

Available from:

Door

Additional Information:

Ven. Sangye Khadro was born Kathleen McDonald in California in 1952 and has been a Tibetan Buddhist Nun for 30 years. In the last three decades, she has been traveling around the world, teaching, studying and doing retreats. An inspiring role model and a wise counsel, Ven. Sangye Khadro is one of the foremost teachers of Buddhism in the West today. Her warm, gentle and unassuming manner of teaching paired with her ability to present the Dharma in a contemporary and personal way has been touching and transforming the hearts of spiritual seekers around the world. Kathleen is also the author of the best-selling Dharma book "How to Meditate", an excellent introduction and beautifully simple guide book on Buddhist meditation.
Register to tell a friend about this lecture.
Comments
If you would like to comment about this lecture, please register here.