Should we introduce a fat tax to stop the rise in obesity?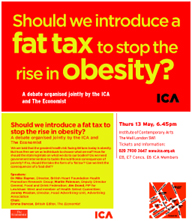 Details of an Economist/ICA debate on the 13th May 2004.
We are told that the greatest health risk facing Britons today is obesity – and that this will significantly reduce the life expectancy of the next generation. This is a complex issue, bringing in economics, demographics – and how far the state should legislate on what we do to our bodies. But how free are we as individuals to choose what we eat? Do we need government intervention to tackle the nutritional consequences of poverty? If so, should this take the form of a 'fat tax' – akin to the way we tax cigarettes to dissuade people? There is an acknowledged western slump into the sedentary life – but can we educate people to enjoy exercise? Can we limit the consequences of a 'bad diet'?
With speakers
Dr Mike Rayner, Director, British Heart Foundation Health Promotion Research Group and chair of the Nutrition Expert Group of the European Heart Network

Martin Paterson, Deputy Director General, Food and Drink Federation

Jim Dowd, MP for Lewisham West and member of Health Select Committee

Jeremy Preston, Director, Food Advertising Unit, Advertising Association
Location
ICA
- London
Chair
Emma Duncan, Britain Editor,
The Economist
Speaker(s):

Dr Mike Rayner | talks
Martin Paterson | talks
Jim Dowd MP | talks
Jeremy Preston | talks


Date and Time:

13 May 2004 at 6:45 pm

Duration:


1 hour 30 minutes

Venue:


Institute of Contemporary Arts (ICA)
The Mall
London
SW1Y 5AH
+44 20 79 30 36 47
http://www.ica.org.uk/
Show map



Organised by:


Tickets:

£8, £7 concs, £6 ICA members

Available from:

The ICA box office on 020 7930 3647
Register to tell a friend about this lecture.
Comments
If you would like to comment about this lecture, please register here.