Egun and Kardec's Spiritualism in Afro-Cuban Religions
Tonight's speaker explores how post-slavery Cuba developed systems ‎of magical work that have fused with the Lukumi religion and Palo mayombe.‎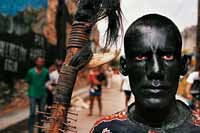 Following on from this, in particular one can note the influence and adaptation of facets of Alain Kardec's spiritism. He will look at Cuban shrines, the use of water and initiation rites. One can then usefully compare and contrast European and African understandings of spiritualism and look at how they fuse and unfold in the Cuban context. Ode Bi Tola is a Lukumi priest of Ochossi and is an initiated ceremonial magician for over 29 years.
Register to tell a friend about this lecture.
Comments
If you would like to comment about this lecture, please register here.