Francis Bacon's Magical Reformation and The New Atlantis
Tonight, James North takes us into the crypto-magical philosophy of Francis Bacon (1561–1626), the chief inaugurator of the scientific age.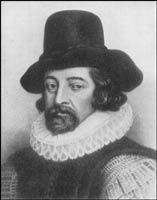 Although a devout Christian and a sceptical scientist, Bacon's work is pervaded by magical thought and imagery. Deeper study suggests that Bacon believed in the literal truth of 'the ancient wisdom', i.e. the supposed science of Atlantis and Egypt. He believed also that magic – the true science – would never recover its power over nature until his contemporaries rejected their current philosophy.

This talk reconstructs Bacon's original blueprints for experimental science, which North suggests can be seen as a kind of hermetic cryptography. It also shows how Bacon's science veils its hermetic and Biblical inspiration, encoding it in an intricate web of symbolism using numbers, letters and emblematic images. Bacon's covert hermeticism is placed in the context of Elizabethan politics and literature, and the talk will touch upon the rôle of the secret service, John Dee's influence and apocalyptic prophecy, and concludes by examining Bacon's work as a continuation of Dee's mystic imperialism.
James North studied the history of philosophy at Magdalen College, Oxford and the Warburg Institute. His interests include renaissance hermeticism, Elizabethan literature and cryptography. He is editor of the Francis Bacon Society's website, and its journal Baconiana. He is currently an intelligence analyst, and his previous career involved music and theatre in odd combinations. The relationship between esoteric brotherhoods and international politics forms the subject of the next lecture in this series.
Register to tell a friend about this lecture.
Comments
If you would like to comment about this lecture, please register here.