Transformations of the Zelator: Spiritual Initiations in the Golden Dawn
Keith Magnay looks at the practice and structure of the original Hermetic Order of the Golden Dawn.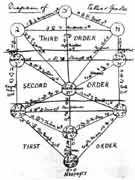 This talk will serve as a useful introduction for people unfamiliar with the workings of this legendary order which was founded 1888 in Britain and will be celebrating its 120th anniversary a fortnight later. It will also give the speaker's view that the purpose of the Golden Dawn, which is an Outer Order, was to put the initiate through a series of transmutations that are essentially of an alchemical nature, through disintegration and re-integration at more and more refined levels – culminating in contact with the aspirant's Holy Guardian Angel – before being allowed to work the magical or priestly practices conducted in its inner order (the Rosae Rubeae et Aureae Crucis). Keith Magnay is a UK-based Hierophant in the modern Hermetic Order of the Golden Dawn.
Register to tell a friend about this lecture.
Comments
If you would like to comment about this lecture, please register here.