Chance, Luck and Destiny: A Psychological Perspective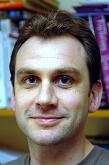 Dr Matt Smith on Chance, Luck and Destiny: A Psychological Perspective
Have you ever noticed that some of the most important things that happen in our lives, such as relationships or careers, are often influenced by a chance encounter, or a fortuitous occurrence? How much are we really in control of our lives? Does each of us have a destiny that we are supposed to fulfil? It is questions like these that have inspired Matthew Smith to re-examine the role that luck plays in our lives and explore the notion of destiny. Is destiny something we can control or is it something that simply helps us to make sense of life's ups and downs?
Matthew Smith is an Associate Professor of Psychology at Liverpool Hope University. He studied for his PhD with Richard Wiseman at the University of Hertfordshire researching the psychology of luck. Since then, he has conducted research on such varied topics as experimenter effects in parapsychology, offender profiling, and lie detection. He returns to the subject of his PhD research to explore the notion of 'destiny'.
Speaker(s):

Date and Time:

19 February 2008 at 4:00 pm

Duration:


1 hour

Venue:


Psychology Seminar Series, Goldsmiths' College
Richard Hoggart Building
New Cross
London
SE14 6NW
020 7919 7871
http://www.goldsmiths.ac.uk/apru

More at Psychology Seminar Series, Goldsmiths' College...

Tickets:

Free

Available from:

Additional Information:

SEMINARS ARE FREE and there is no need to book in advance.

All talks are open to members of the public, staff and students.

They start at 4:10 PM IN ROOM 308, Richard Hoggart Building, Goldsmiths.

For further information, contact Sally Marlow (email: ps604sm@gold.ac.uk).
Register to tell a friend about this lecture.
Comments
If you would like to comment about this lecture, please register here.