RSA Edge Lecture: Parental engagement, prejudice and personalisation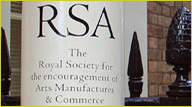 Edge and the RSA have partnered to deliver a series of five lectures exploring the various ways of developing the full potential of every pupil, regardless of ability.
With Birte Ravn, Associate Research Professor, Department of Educational Anthropology, School of Education, University of Aarhus, Denmark
Respondent: Andy Powell, Chief Executive, Edge
There is compelling evidence that parental aspirations, expectations and involvement have a major impact on their children's attainment. The European Commission holds that the degree of parental involvement is a significant indicator of the quality of schools. But we know that 19 per cent of young people feel they have wrongly advised about their educational career path and 42 per cent of these feel they were misdirected by their own parents. An expanding variety of qualifications and educational technologies makes it possible to personalise students' learning to an ever greater extent, but fewer then 25 per cent of parents feel they know enough to successfully guide their children. What do we need to do to enable the exercise of increased agency by parents and students, and a growing personalisation of each child's education?
Audience members will have an opportunity to ask questions.
Book your free place online or by emailing lectures@rsa.org.uk or by phoning 020 7451 6868.
Speaker(s):

Birte Ravn | talks | www
Andy Powell | talks | www
Fiona Millar | talks | www


Date and Time:

17 March 2008 at 6:00 pm

Duration:


1 hour 30 minutes

Venue:


RSA
8 John Adam Street
London
WC2N 6EZ
+44 20 7451 6868
http://www.theRSA.org/events

More at RSA...

Tickets:

Free

Available from:

Book your free place online or by emailing lectures@rsa.org.uk or by phoning 020 7451 6868.

Additional Information:

RSA

Lectures

The RSA runs a series of lectures around the UK covering a broad range of subjects.

In most cases our events are free and are open to the public as well as RSA Fellows.




Find an Event (goes to the

RSA

website)

View a full list of forthcoming lectures, or search for a specific event.
Register to tell a friend about this lecture.
Comments
If you would like to comment about this lecture, please register here.