Blackflies and River Blindness in Latin America - the Belize Case Study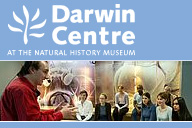 Discover how scientists are working to prevent the spread of a disease that affects 18 million people worldwide.
River blindness (onchocerciasis) affects 18 million of people worldwide. Join Museum Entomologist Luis Hernandez to find out about the work that Museum scientists have carried out in Belize investigating the species of blackflies that spread river blindness.
Register to tell a friend about this lecture.
Comments
If you would like to comment about this lecture, please register here.