Tourists and Turtle Eggs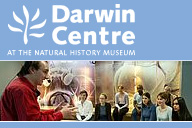 Part of a series where experts from around the world will explore how responsible tourism can help conserve endangered wildlife and benefit local communities.
Leatherback turtles in Costa Rica are highly endangered, but money from tourism could help to save them. Find out how and see footage of the recent egg laying with live comment from Las Siete Quillas Education Centre in Costa Rica.
Register to tell a friend about this lecture.
Comments
If you would like to comment about this lecture, please register here.