The Word made Art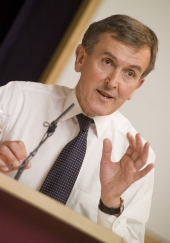 The constraints and opportunities of a visual tradition
These lectures are offered in memory of Canon Henry Scott Holland, Regius Professor of Divinity at Oxford, and keen exponent of social justice.
Mr Macgregor will look at how artists over the centuries have addressed themes that were central to Scott Holland's teaching on the social implications of the Incarnation. Throughout his life he was close to the leading artists and poets of the day. From the pulpit of St Paul's Cathedral, he addressed over several decades issues that he believed were crucial for the contemporary church: the social meaning of the body of Christ; the proper response to law, tradition and injustice; and how the abstract truths of faith could be given living, public expression.
The lecturer will be examining paintings and sculptures, mostly in U.K. public collections, which explore these issues from standpoints and periods far removed from Scott Holland's. Visual meditations on his themes, they raise important questions for the church today.
What are the constraints and opportunities afforded by a visual tradition for a religion? Given the specificity of an Incarnation, what are the implications for race and gender? Is a visual tradition actually desirable? These thoughts will be supported by presentations of works in various public collections.
Register to tell a friend about this lecture.
Comments
If you would like to comment about this lecture, please register here.