Denis Oswald, Executive Member of the International Olympic Committee, speaks at De Montfort Univers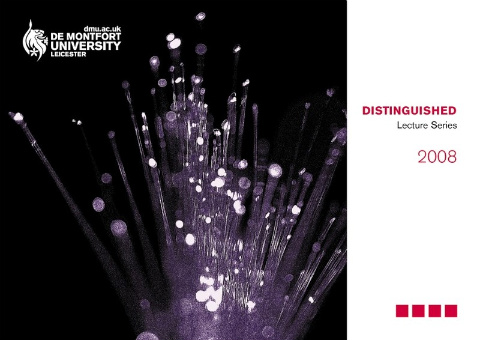 Executive Member of the International Olympic Committee
Denis Oswald was born in Neuchâtel , Switzerland, in May 1947 and studied at Universities in Switzerland and the UK. He is a lawyer, a judge at the Court or Arbitration for Sport and a professor at Neuchâtel University. He is also Director of the International Centre for Sport Studies, which co-ordinates the FIFA Master Course taught jointly by De Montfort University Leicester, Bocconi University Milano, and Neuchâtel University. He was President of the Bar in Neuchâtel.
Denis has been Secretary General and is now President of the International Rowing Federation as well as holding key positions within a large number of other sporting bodies, including the Association of International Olympics Federation. He became a member of the International Olympic Committee in 1991 and of its Executive Board in 2000 and has had many important roles within the committee including Chairman of the Co-ordination Commission for the XXVIII Olympiad, Athens 2004, Chairman of the Co-ordination Commission for the Games of the XXX Olympiad, London 2012 and Vice-Chairman of the Eligibility Commission (1992-1998).
Denis is himself an accomplished sportsman having been 13 times National Champion and have participated in three Olympic Games as a (with a bronze medal as best result). He was also a runner, skier and ice-hockey player.
Speaker(s):

Mr Denis Oswald | talks


Date and Time:

3 December 2008 at 6:00 pm

Duration:


1 hour

Venue:


Hawthorn Building, De Montfort University
De Montfort University
The Gateway
Leicester
LE1 9BH
0116 257 7452
http://www.dmu.ac.uk/news_events/events/dls/DB.jsp
Show map



Organised by:


Distinguished Lecture Series
See other talks organised by Distinguished Lecture Series...

Tickets:

Free

Available from:

Places must be booked in advance as there are limited places. To book a place, or for more information email Daniel Jones on djones@dmu.ac.uk or telephone 0116 257 7452.

Additional Information:

To see what else is happening at Demontfort University please highlight the following link and copy and paste into your browser to take you direclty to our events calendar - http://dmu.ac.uk/news_events/events/listofevents.jsp
Register to tell a friend about this lecture.
Comments
If you would like to comment about this lecture, please register here.