The title of this session is a quotation from an essay by the nineteenth century American writer, poet and environmentalist Henry David Thoreau.
Thoreau celebrated the detail and diversity of the places he knew best, while lamenting the way in which which modern urban life had made natural resources into commodities and isolated people from the natural processes on which their lives depended. Today, after another century of environmental exploitation and continuing urbanisation, this isolation is far more extreme.
We need to reconnect urban life with the patterns and rhythms of the natural world, for urgent practical and spiritual reasons. Poets have expressed the yearning for connection as a basic human need. Politicians have woken up to the value of urban parks, as studies have shown that a healthy, green environment offers benefits ranging from improved social cohesion and lower crime to better mental and physical health. Perhaps most urgently, we need to be reminded of our dependence on natural processes and our interdependence with other living things, so that we make responsible choices in our daily lives for the sake of all life on earth.
A short stay in beautiful countryside can offer us inspiration, but most of us are town or city dwellers, and need to stay as such for the sake of the planet. There's not room for us all in the countryside! How can we work towards sustainable city greening, while preserving real wildness in a working landscape?
We won't spend long on statistics of environmental degredation or prospects for impending disaster. Sometimes the facts can overwhelm us. Information alone doesn't give understanding and rarely leads to action. This will be an evening for reflection and for celebration. I'll introduce the theme with slides and readings, but there will also be time for participants to share readings they have brought with them and for creative listening. Please come prepared to share and to listen.
Booking essential
For further information on all short courses, workshops and talks at Bainside Arts phone administrator 0845 3305105 or look at our website www.bainside-arts.org.uk
This evening seminar is part of a weekend workshop Gardens and Wildplaces which runs over Saturday and Sunday, for which we are taking bookings now.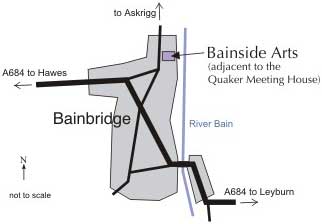 The seminar may be attended without joining the rest of the workshop.