Psychology, Art & Empathy - a scientist/artst collaboration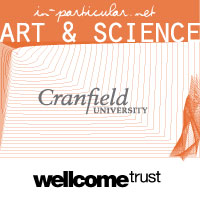 Tricks of the Psych Trade: an art & science collaborative event unraveled. How did a public understanding of science evening about empathy get enhanced by artists?
Dr Emma Lawrence – Lecturer in Cognition and Neuroimaging, Institute of Psychiatry, Kings College London.
Julie Freeman – Artist in Residence, Microsystems & Nanotechnology Centre, Cranfield University. NESTA Fellow.
In this talk experimental psychologist Emma Lawrence and Cranfield University artist-in-residence Julie Freeman will discuss 'Tricks of the Psych Trade' – a science communication event held at various locations in the UK. How can artists complement scientific presentations, side stepping ethical issues, presenting abstracted ideas, raising questions without answers?
Tricks of the Psych Trade featured an interactive talk by a psychologist, artwork by an artist with Asperger's Syndrome, and a sonic art installation. http://www.lubric.com/tricks
Emma Lawrence's main research focus is emotion regulation in healthy controls and clinical groups where these processes have gone awry. She is also interested in the impact of these processes on empathy and emotion perception. Part of her research involves working with people with Asperger's Syndrome, a form of autism whereby language ability and intelligence are intact. People with Asperger's Syndrome find some aspects of social perception and empathy difficult. She also works with people who report a condition called Depersonalisation – sufferers of which often talk of feeling emotionally numb or detached from their body and/or mental processes.
Dr Lawrence works within the framework of Cognitive neuropsychiatry which views psychological and behavioural difficulties as occurring when the usual mental processes and their brain correlates become altered. This can be due to a multitude of factors such as psychological and/or environmental triggers, brain injury, and unusual brain development .
Julie Freeman' work spans visual, audio and digital artforms and explores the relationship between science, nature and how humans interact with it. For the past 12 years her work has focused on using electronic technologies to 'translate nature' – whether it is through the sound of torrential rain dripping on a giant rhubarb leaf; a pair of mobile concrete speakers who lurk in galleries haranguing passersby with fractured sonic samples or by providing an interactive platform from which to view the flap, twitch and prick of dogs' ears. In 2005 she launched her pioneering digital artwork The Lake, which used advanced technology to track bioacoustically tagged fish and translate their movement into an audio-visual experience. She is currently artist-in-residence at the Microsystems and Nanotechnology Centre at Cranfield University.
Register to tell a friend about this lecture.
Comments
If you would like to comment about this lecture, please register here.