DNA: Fifty Years of Doing the Twist (Comedy Research Project)

The Comedy Research Project present a show about the milestones of genetic science. The show includes Dolly the sheep and her media career on the covers of Nature and Good Food Illustrated, the uses of genetically modified animals, and how to clone Elvis in five easy steps.
For three weeks only, audiences in London can see a comedy night with a twist as the Comedy Research Project aims to prove the hypothesis that science can be funny.
In its live stage show, the Comedy Research Project, aided by a few simple props, presents a swift, energetic tour through a series of scientific and engineering topics at the Science Museum's Dana Centre the UK's newest venue for adults to debate contemporary science issues in an informal environment.
Who would have thought that an adult audience would be playing The Splice is Right gene game-show, volunteering to catch a scientist recreating early experiments in flight, or singing along with Elvis about black holes?
To date, the Comedy Research Project has induced hilarity at stand up comedy clubs, science festivals, private events for science-savvy audiences, and events for teenagers. The event is suitable for everybody over the age of eighteen, and no prior knowledge of the subject matter is assumed.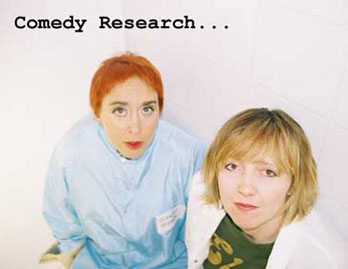 The Comedy Research Project are science comedians Dr Helen Pilcher and Timandra Harkness who will be performing at the Dana Centre on Tuesday 8, Tuesday 15 and Tuesday 22 June 2004.
Speaker(s):

Date and Time:

15 June 2004 at 7:30 pm

Duration:


1 hour

Venue:


Dana Centre
165 Queen's Gate
London
SW7 5HE
+44 20 79 42 40 40
http://www.danacentre.org.uk
Show map



Organised by:


Science Museum
See other talks organised by Science Museum...

Tickets:

Free

Available from:

All events are FREE but please pre-book on: 020 7942 4040 or tickets@danacentre.org.uk

Additional Information:

Biographies:

The Comedy Research Project are science comedians Dr Helen Pilcher and Timandra Harkness. They first met when performing stand-up comedy one night in a club. Some time later both were surprised to be reunited at a scientific meeting and discovered that they had a common interest in science.

Helen Pilcher writes daily on-line news for Nature. She has also genetically engineered a series of stem-cell lines for transplantation into the degenerative brain, and was a finalist in the BBC New Comedy Awards.

Timandra Harkness can be seen on BBC4's Mind Games and an Open University television programme about the Theory of Everything. She is currently writing a feature film about a man going to Mars.

Getting to the Dana Centre:

Nearest tube: Gloucester Road. There is no parking at the Dana Centre (except for disabled drivers). Residents' parking restrictions apply until 10:00pm.

Notes to Editors:

The Dana Centre is a collaboration between the Science Museum, the BA (British Association for the Advancement of Science) and The European Dana Alliance for the Brain (EDAB) making it unrivalled in its expertise and depth of knowledge of scientific and technological fields. The Centre is housed in the Wellcome Wolfson Building alongside the headquarters of the

BA, EDAB

and Science Museum offices.
The £9.8 million building has been provided by four major benefactors – the Wellcome Trust, the Wolfson Foundation, The Dana Foundation and the Garfield Weston Foundation.
The Science Museum exists to promote the public understanding of the history and contemporary practice of science, medicine, technology and industry. It aims to inspire, educate and involve visitors. It achieves this by building, researching and caring for the national collections; and by interpreting these collections and engaging the public in the contemporary issues they raise.
The BA is the UK's nationwide, open membership organisation dedicated to connecting science with people, so that science and its applications become accessible to all. The BA aims to promote openness about science in society and to engage and inspire people directly with science and technology and their implications.
The goal of

EDAB

is to inform the general public and decision makers about the importance of brain research.

EDAB

aims to advance knowledge about the personal and public benefits of neuroscience and to disseminate information on the brain, in health and disease, in an accessible and relevant way.
Register to tell a friend about this lecture.
Comments
If you would like to comment about this lecture, please register here.