The School of Life Presents Happiness: A Laughing Matter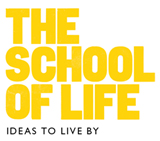 The sermons will offer a witty but also valuable alternative to the traditional religious sermon.
Ask yourself whether you are happy, and you cease to be so.' Thus concluded John Stuart Mill, the nineteenth century British philosopher, after a period of profound unhappiness. He realised that to pursue happiness directly is a mistake. Three authors from a new series of books, The Art of Living published by Acumen, will be at The School of Life: Mark Vernon, author of Wellbeing, Ray Tallis, author of Hunger and Chris Hamilton, author of Middle Age, have all written on how the ideas of philosophers can help us not just live, but live well. They have also reflected on what can become a hindrance to life, and its happiness. Join them for an evening exploring the good life. As Plato put it, 'Our discussion is about no ordinary matter, but on the right way to live.'
Early booking is strongly advised. The School of Life is a small and intimate venue and numbers are strictly limited
Speaker(s):

Dr Mark Vernon | talks | www
Ray Tallis | talks
Chris Hamilton | talks


Date and Time:

24 October 2008 at 7:00 pm

Duration:


TBC

Venue:


The School of Life
70 Marchmont Street
London
WC1N 1AB
020 7833 1010


More at The School of Life...

Tickets:

Free

Available from:

www.theschooloflife.com or 020 7833 1010

Additional Information:

The School of Life is a new cultural institution offering intelligent and playful ways of interpreting the world in which we live.
Register to tell a friend about this lecture.
Comments
If you would like to comment about this lecture, please register here.