The Gods of the Witches: Divinity, Worship, Ritual and Transgression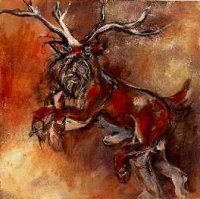 The Wiccan understanding of divine and spiritual forces, how it transmits ideas of what is sacred and how it should be worshipped.
This talk is a sequel to that on 5th January. This time Christina Oakley Harrington turns to focus on the Wiccan understanding of the divine and spiritual forces, and how the tradition, including in the solitary path, transmits the ideas of what is sacred and how it should be worshipped. What are witches doing when they do a ritual, and what does a Wiccan ritual aim to do? What does it worship and how can it be both religious and magical simulaltaneously? The speaker asserts that Wicca's religious tenets are more challenging, perhaps even radical, than people realise nowadays. Tonight's talk reveals how, and what she thinks this can mean for society as well as for witches themselves.
Once again, there is ample time provided at the end for questions and discussion. This is a talk for people who are exploring Wicca as well as for those interested in comparative religion. This lecture can be attended as part of a pair, in conjunction with that of 5th January. It can also be attended on its own.
Speaker(s):

Professor Sarah Turner Christina Harrington | talks


Date and Time:

12 January 2009 at 7:15 pm

Duration:


2 hours

Venue:


Treadwell's Books
33 Store Street
Bloomsbury
London
WC1E 7BS
020 7419 8507
http://www.treadwells-london.com/

More at Treadwell's Books...

Tickets:

£5

Available from:

Reserve your place via Treadwell's by email (info@treadwells-london.com), or by phone, 020 7240 8906. Payment confirms booking.

Additional Information:

Treadwell's hosts courses and workshops taught by most experienced and gifted practitioners we know -- tutors who are not only advanced in their subjects but are also able to consider their practices thoughtfully and critically. Our aim is to make the study of esoteric disciplines available to thinking, well-read enquirers. You can also get events updates via an RSS Feed (http://www.treadwells-london.com/events.php). We have an archive of past courses (http://www.treadwells-london.com/coursespast.asp), and you can also subscribe to our mailing list (http://www.treadwells-london.com/mailinglist.php).
Register to tell a friend about this lecture.
Comments
If you would like to comment about this lecture, please register here.